Notably missing from the agenda: a scrimmage.
Seems that could be the price of having both men's and women's team involved, there is only so much time in an evening. Still, it would have been nice to have a scrimmage.
Juwan being secretive again​:wink:


I hope Frankie, Kobie and Moussa are in the Dunk Comp. The 3pt Comp will be interesting. I'm certain Maddie Nolan and Leah Brown will probably shoot for the gals I know. The guys I would guess be Eli, Adrian Nunez, Kobi , and Caleb maybe BJJ.
I have to imagine Kobeieio would crush that contest.
I think they should add a post move contest and feature Juwan, Hunter, and Naz

Every year that I was a part of Maize Rage we would have Beilein come to a meeting and every year someone would ask him about hosting a midnight madness type event. He would always give a resounding no; Howard definitely has bit of a different style to say the least

Also I could be wrong but I feel like I've seen schools bring in recruits to these kinds of events, not sure we have anyone left in '22 to host but could be a fun event to get some future recruits out to (albeit a little late notice.)
He did have one once. The year after Michigan made the NCAAT the first time. Novak won the dunk contest. Then the team was really bad and he never did one again.
Yeah I remember when people brought up that one he made it clear he didn't look back on it fondly
Could we be getting some form of scrimmage at pro day?
Pro day was Saturday, right?
Apparently! I just realized like 10 seconds ago
It was a legit dunk! I was there, though this isn't my video.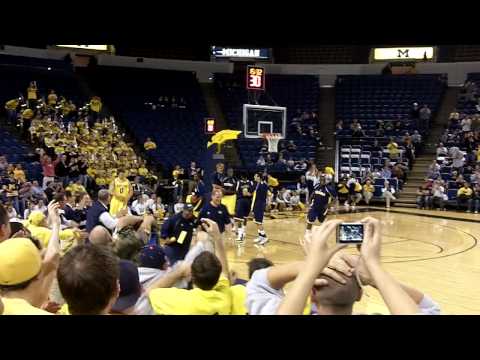 It's the exact same dunk Reddit was pumping Hunter Sallis up about.
Yeah; I almost tweeted this out over the weekend. Basically the same dunk
I just hope Livers isn't in it. He probably won't be, but I'm a worrier.
I also remember attending some sort of preseason "open practice" event that involved a 3 point contest between the men's and women's team that I think Katelyn Flaherty(?) won?
Correct. She beat DRob of all people!
I am surprised they are not doing one
@umhoops Unfortunately I won't be able to make it. Can I assume you will have lots of coverage/video of this event?