Thank you. Would have liked to hear Izzo's comments tonight, too.
Yeah, apologies for that but they are in different places at the same time.
Here's someone else's video: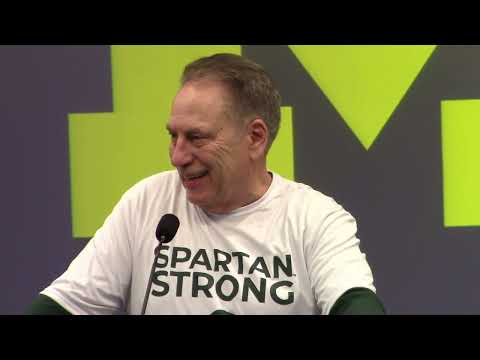 Some cringey Tom moments in there…
Thought it was pretty reasonable and not cringey at all, personally.
Yes, he was fighting back some emotions and gave one of his better pressers under extremely difficult circumstances. Probably sleeping even less than usual and understandably looks as though everything has taken a toll on him.
Did Izzo explain why he called that timeout down 12 with 20 seconds left? That was weird.
I was hoping someone would ask him that, but it didn't happen. I was trying to get a sense of what he might be focusing the team on when it happened, but couldn't intuit anything.
I can't imagine having to coach and lead a team under these circumstances, and then spend 20 minutes answering questions after a tough rivalry loss that you had a good shot winning. My heart went out to him tonight. I appreciated his remarks about how the university and students showed up to support MSU, and that he acknowledged that U-M outplayed them down the stretch. He hasn't always been able to muster similar grace after other losses.
Sorry, poor timing on my part to criticize Tom's answers inferring luck… ie mentioning the Kobe shot twice as being 1/100, and a "Hail Mary". My definition of cringey in that moment was Tom doing his usual "give them credit, but that was luck" types of responses.
To be fair, it was a pretty absurd shot. I actually agree with that more than when he's like "oh this guy hit some shots and that guy hit some shots" when it is about a guy wide open making shots.
Bufkin's shot was legitimately a ridiculously tough shot in a huge moment.
It wasn't a "yeah that guy that can't shoot made some shots in the first half" it was more of "their guy hit theirs, our guy missed".
I kind of settle somewhere between you both–I mean, credit Tom, because he never beats himself! Lol. The other team gets lucky, or his team lets him down a little. Last night he was gentle about them since the moment called for it.
The thing about sports is that otherwise normal people like Tom get to talk a lot.
I would love to know what he was telling his team at that time. I assume it had nothing to do with game strategy, but was instead more along the lines of "Hold your heads high, you played well" or "Be gracious to our host. They showed us respect."
Are we sure Izzo called the timeout? On the sideline it seemed like Juwan was motioning trying to get the refs attention for a timeout before the inbound. I know the Fox graphics credited it to MSU though
MSU is the only team that can call a time out when MSU has the ball.
You can call a timeout before the inbound on a ft make.
Yeah, it's not super clear that he's referring to the timeout, but I took this to be his answer to that question in the postgame presser.
Interesting time for a "teachable moment" by Izzo. Couldn't save that until Monday?
Meh, I really don't see the issue with it personally, especially with everything else going on. Coach until the final whistle.
The late timeouts that get people fired up (as we all remember) is when the winning team calls them.
Is anyone fired up by the TO? I just think it's an odd time to ask your team to reflect on their mistakes over the last 39:40.
Seemed more appopriate to gather the team on the verge of an emotional loss, tell them they played hard but came up short, and to make sure they play through the last possession and appreciate the moment.
What actually happened is certainly in keeping with Izzo's style. He's a HoF coach, but I feel like he also imposes limitations on his teams with his unrelenting focus on outcomes. As he said himself, he told the team at dinner they weren't going to be coached any differently than a regular game. Which was fine right up until a TO with 20 seconds left in a game down by double digits at the end of a tragic week, at which point it seems questionable to me. Reasonable people can disagree.