It's the entire Jordan Poole experience all in 1:20 in game time. Love it!
Poole is talented enough to get away with so much…
Steph likely would've taken that shot too. And made it.
I was semi-court side for this game. That Livers dunk tore the roof off. Had a block on Josh Christopher right before that.
Moe has really found a home in Orlando. Seems like Magic fans love him and he's been very productive recently. There were some really nice/tough finishes from last night and interestingly, he's become a very solid defensive player.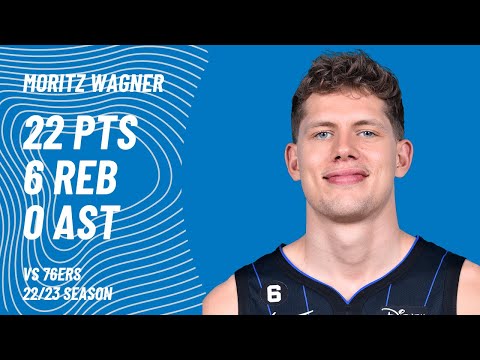 Seems like fit is just so critical.
Love it- especially against Embiid.
A week late, as stupid work got in the stupid way:
Because the Clippers take "load management" to it's far extreme withing the NBA, Moussa Diabate continues to shuttle between Ontario (California) and the big club, picking up sporadic playing time.In the 11 games since the last update, he was inactive for 4, got a DNP-CDin another, played over 20 minutes in two (both 20+ point losses with heavy bench minutes), and picked up between 2 and 7 in others. He scored 18 points in these 6 games, with 13 coming on Sunday. The nature of these games basically affirms what we've said…he has 8 offensive rebounds in 71 minutes in this stretch, and his FGA's basically track with the ORBs…in his first game, he grabbed three, and got four shots (missing 3), and in his final he grabbed 4 and got 8 shots (making 5). His main value is on the offensive glass and trying to put the ball back. His defensive chops are still not that evident in the NBA (his block and steal numbers are pretty pedestrian). He did make a three!
Orlando, which spent a comical amount of time early in the year injured, is getting guys back. They have 5 active actual guards, and even Jonathan Isaac is playing. What this means is that Caleb Houstan has spend the last three weeks vacillating between DNP-CD's and inactive. He did play 2 minutes on 1/10 (the first day of our window) and missed 1 three.
Isaiah Livers has returned from injury. He's only attempted 10 2's in 8 games (he made 4, continuing his struggles within the arc), filling his role as 3 point sniper. He's largely getting between 20 and 25 minutes per game. He's made 39% of his 28 threes over these 8 games. I'll admit I have not been watching Pistons games, as they're mostly super-losses so there may be people here better positioned to comment on his defense, etc. He's at 36% or so for the year from 3.
Franz Wagner keeps churning…over the past 3 weeks (10 games) he's scored 19.7 points per game (19.9 on the season), shot 51% from the floor (49% on the year), and shot 44.5% from three. His attempt rate is down a little as more Magicians (?) have returned, but his true shooting in January has also been over 63%, which is pheonemal. The Magic are 16-11 over their last 27 games, resembling an actual basketball team despite their youth and lack of truly established players, and Franz is one of two (if not hte biggest?). What's striking about Franz is that he's become a true three-level scorer. He's an incredible 72% at the rim (27% of his shots), 40% from floater range (32% of his shots, nearly 50% from mid range (about 10% of his shots), and 37%+ from three (31% of his shots). His rim and three game is mostly bolstering his numbers, and floaters could improve, but the growth in three point shooting this season (as well as his finishing at the rim) is very encouraging. He's actually boosted his FG% in each zone from last year, and pushed usage out of floater range…not a bad trick!
When I last updated, Jordan Poole was taking a flamethrower to his efficiency, but has bounced back a bit in the past three weeks, and has a notable change in usage pattern. First, the numbers: he's shot 48.7% from the floor (5 points better than his season average), and 39.7% from three (up 7 points from his season average). He is, however, taking about 2 fewer shots per game than on the season as a whole, and his usage has dropped 8 points from December's unjustifiable 35%. His assists have also climbed in this stretch, while turnovers (still high) have receded. So what's up? The easiest explanation, and probably largest, is "Steph Curry came back". Jordan no longer needs to eat as much usage as well as having the opportunity of basking in the halo of the league's most dominant offensive player (Curry has had the single largest impact on teammate's play offensively for nearly a decade at this point). Second largest would be "his minutes allocation shifted", he spends less time captaining sloppy bench units as he's in the starting lineup lately as the Warriors are giving the small lineup (which Zach Lowe calls "The Poole Party") a go - with Poole replacing center Kevon Looney in the starting 5. Playing more with Steph, Klay, and Wiggins will leave less usage for him than when he plays with DiVincenzo, Kuminga, and Anthony Lamb and get him more time in Steph's sun. So, I think this is a tempering of his rough trend - he was being asked to do way too much without Curry being around, and that was tanking his efficiency, and now he gets to play a ton next to Steph, which is perhaps artificially aiding him. Perhaps should also mention the Poole Party lineup (counting down from the 5: Green, Wiggins, Thompson, Poole, Curry) is a defensive abomination and gets utterly massacred on the glass. One cool highlight - Poole scored 32 to lead a complete towel-throw lineup (no Green, Curry, Thompson, or Wiggins in the lineup) to a victory against Cleveland.
It's not just guards who have returned in Orlando, but bigs as well - both Bamba and Wendell Carter Jr. are back in the rotation at Center, Jonathan Isaac is starting to get some burn at the 4, and there are still noted large guys Paolo Banchero and Bol Bol playing solid minutes and measuring 14 feet between them (this team is laughably huge). It was at this point in the roster availability where, if you asked me 3-4 months ago, I'd say Mo Wagner would be collecting DNP-CD's. But he's not! His minutes HAVE dropped by about 6 per game (from 21 down to 15), but he's still there, and doing ok. He's still scoring 10.5 ppg in his 15 minutes (which is really good, even if 49 came in the last 2). He's shot 52% from the floor, and while the "stretch" aspect of his game is still just a theory (32% from three in the past 10 games), he's gone 18/19 from the free throw line in the past 2 games. He's been a positive player on a surprisingly decent team (the Magic went 5-13 before he returned from injury, and are 15-18 since he came back (I'm not attributing this turnaround to him, but he's a part of it, and goes to the larger point that the Magic are not a trash team playing meaningless basketball)). As noted above - Mo has really grown since arriving in Orlando, after seeming like his career was on life-support when they picked him up.
Caris Levert is also on a little bit of a heater - he's only at 40% from the floor since our last update, but that's getting nailed by an ugly 0/12 against OKC…he's also shooting 40% from 3 in that span. The best part of his game has been secondary play-making: he at roughly 5 assists per game at under two turnovers, as he's moved in and out of hte starting lineup during their past 11 games, and played a variety of roles. He's still a really streaky shooter (60% of his 3's came in 3 of the 11 games, he averages 13 ppg, but he's generally getting 24 or 5, etc) and that probably lends itself more to a bench role (feed him when he's on, diminish his role when he's off) but his play-making has been a constant this year, as he finally gets a chance to try to find a role for a good team.
Tim Hardaway Jr. had carried his hot streak from the prior update through the first two games of this stretch, than promptly sprained his ankle, missed two games, and has shot 31% from the floor since returning. It seems that this year is fated to be somewhat of a regression for him in total, but for that 20 or so game stretch after shaking off the rust and this injury, he played pretty well and mostly filled the role for the Mavs he had been filling when they paid him all his money.
Duncan Robinson is injured for the season due to an injury to his shooting wrist. I want to believe that it's why his shot has been so poor? Most of the news around him is of the "Duncan Robinson's contract" variety, where he's being mentioned as salary balast to be used in a trade for Jae Crowder.
Blaha and Kelser have both (positively) remarked on Livers' defense. On a team with an awful defense, he's one of the 3-4 guys who play it well.
Have a day Timmy Hardaway Jr.!! 3-18 shooting (2-12 3PT)



. Yet somehow got 40 mins.

Dallas is very Luka centric offense and they lacked the 2nd dynamic option to take pressure off from Luka. Dallas really need to swing for the fence to find a 2nd star but the issue is will he be okay with Luka being ball dominant?
They did go out and trade for basically the hypothetical ideal second star in KP, and that ended up being a disaster.
I think Luka, Wood, and Dinwiddie fit pretty nicely together
When I saw there was a player brawl at the Magic-Timberwolve game, I was surprised that Mo wasn't in the middle of it. I'm guessing I wouldn't be alone.
100%. Saw I headline on twitter and immediately assumed it was Moe vs. Timberwolves.
I saw a clip with the pileup and waited to see if Moe was at the bottom. I'm happy he wasn't. Instead it was almost-Wolverine, Mo Bamba. Our Moe did have an odd statline, though: 19 points, 1 foul, and 0 rebounds.
Moe was actually doing a pretty good job of playing peacekeeper (not that it was going to actually escalate any further…as Rivers said, they weren't going to try and land any punches and risk breaking their hands lol)
It really is cool to watch the Wagner bros play together, though.
I will always insist that if you look at Mo's day by day stat lines (and I do for my posts)
He rarely has a game that doesn't have something really weird going on
Like if you look at his averages, it leads you to conclude that he is what we know - a pretty good offensive reserve center who rebounds ok (particularly on the offensive glass) doesn't protect the rim at all, and fouls too much
But he never has an individual game like that!
the magic drafting mo bamba basically means he retroactively committed to michigan after all, imo